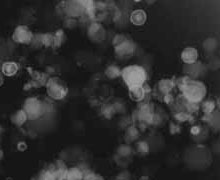 Specification
| Item | Purity | APS | SSA | Color | Morphology | Bulk Density |
| --- | --- | --- | --- | --- | --- | --- |
| Aluminum nanoparticles | 99.99% | 50nm | 20 m2/g | Dark Grey | Spherical | 2.7 g/cm3 |
Applications
Biomaterials
Catalyst support
Dispersion-strengthening
Heat-transfer fluids (suspensions)
Nanocomposites
Sources for IC board or package
Transparent conductive coatings
Transparent optical coatings
Wear-resistant additives
Storage Conditions
Damp reunion will affect its dispersion performance and using effects, therefore, Al nanoparticle should be sealed in vacuum and stored in cool and dry room and it should not be exposure to air. In addition, the product should be avoided under stress.
Cautions
Al nanoparticle is flammable. It should be gently placed and avoided violent vibration and friction.
Aluminum(Al) Nanoparticle should be prevented from moisture, heat, impact and sunlight.
The user must be a professional (This person must know how to use Aluminum(Al) Nanoparticle.