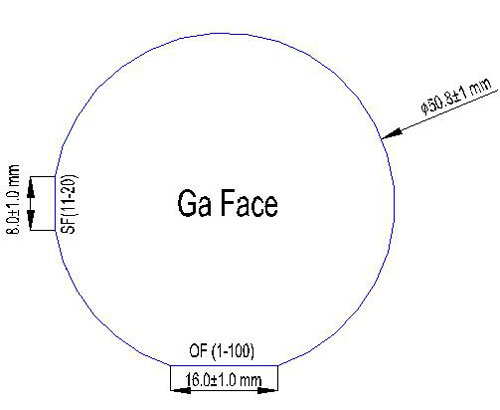 Specification
| | |
| --- | --- |
| Molecular Formula | GaN |
| Molecular Weight | 83.7297 |
| Cas. No. | 25617-97-4 |
| EINECS No. | 247-129-0 |
| Purity | >99% |
| Chemical Stability | Very stable and do not react with aid, alkali water at room temperature |
| Preparation Method | Ammonia Method |
| Density | 6.1g/cm3 |
| Appearance | Light yellow powder |
| Particle Size | 200 Mesh |
Used for Heat Conductive Material
The silica gel compounded with Aluminum nitride nanoparticles, which has super thermal conductivity, gives very excellent thermal conductivity, electrical insulation, wider working temperature of electrical insulation (-60°C~-200°C), lower thickness and good operation performance, and can be widely used in the thermal transmission medium of electronic component to improve working efficiency, such as CPU radiator filler, high-power audion, controllable Silicon components, diode, thermal transmission medium in the seam and so on.
Aluminum Nitride Nanopowder powder can largely improve the thermal conductivity of plastic. By adding Aluminum nitride nanoparticles to plastic according to the proportion of 5%~10% in mass, we can increase the thermal conductivity of plastic from 0.3W/(m.k) to 0.5W/(m.k), 16 times more. Compared with the heat conduction stuffing (alumina or magnesia) in the market, it can improve the mechanical properties of products with smaller amount.
At present, related manufacturers have purchased Aluminum Nitride Nanopowder powders in mass and the new-type nano heat conduction plastic will be launched to market.
Aluminum Nitride Nanopowder powder works very well in silicon dioxide and tends to disperse in rubber. Under the premise of making no difference to the mechanical performance of rubber, (experiments proved that it could improve the mechanical performance of rubber), it can largely improve the heat conductivity of rubber and will not lower down the viscosity like other oxides during adding process, and only very small amount is required. It has been widely applied to military, aviation and information engineering.
Packing & Storage
Pack in aluminum foil bags and protect with nitrogen;
Store in nitrogen atmosphere if open the package.