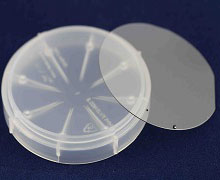 Features
EPRUI has become the overseas distributor of China's top gallium nitride (GaN) wafer manufacturer.
Our freestanding GaN substrate is for UHB-LED and LD. Grown by hydride vapour phase epitaxy (HVPE) technology, Our GaN substrate wafer has low defect density and less or free macro defect density. We can now supply 2 inch,3 inch and 4 inch freestanding gallium nitride wafer for your choice.
2" Freestanding GaN substrate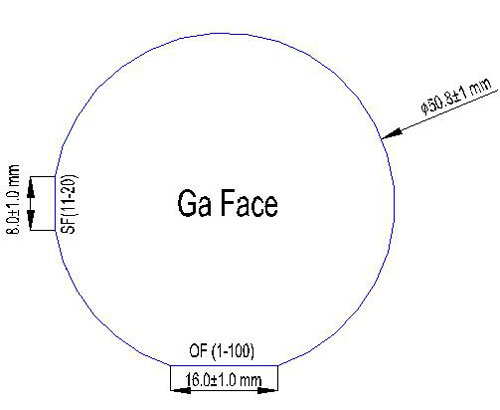 According to conduction type, there are undoped, Ge doped, semi insulating Fe doped type.
Specification
Item
GaN50-FS-U
GaN50-FS-N
GaN50-FS-SI
Conduction Type
U-type(Undoped)
N-type(Ge-doped)
Semi Insulating(Fe-doped)
Resistivity(300K)
< 0.5 Ω·cm
< 0.05 Ω·cm
>106 Ω·cm
Dislocation Density
1~9x105cm-2
5x105 cm-2
1~9x105 cm-2
1~3x106 cm-2
~3x106 cm-2
1~3x106 cm
Dimension
Ф 50.8 mm ± 1 mm
Thickness
350 ± 25 µm
Useable Surface Area
> 90%
Orientation
C-plane (0001) off angle toward M-Axis 0.35°± 0.15°
Orientation Flat
(1-100) ± 0.5°, 16.0 ± 1.0 mm
Secondary Orientation Flat
(11-20) ± 3°, 8.0 ± 1.0 mm
TTV(Total Thickness Variation)
≤ 15 µm
BOW
≤ 20 µm
Polishing
Front Surface: Ra < 0.2 nm. Epi-ready polished
Back Surface: Fine ground
Package
Packaged in a class 100 clean room environment, in single wafer containers, under a nitrogen atmosphere
3 inch and 4 inch Freestanding GaN substrate can also be customized.